Omega 3 Fish Oil

Supplements Online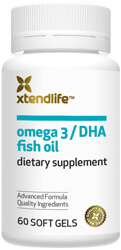 This is where to buy Omega 3 DHA Fish Oil [xtendlife™] supplements online world-wide. Your diet should have an adequate intake of an essential Omega-3 fatty acid found in fish oil called DHA (Docosahexaenoic Acid). Scientists have established the benefits of Omega-3 in a number of health areas, including your heart, brain, joints, skin, your immune system, vision and digestion.
High in DHA and proven to be pure and free of contaminants, Omega-3 Fish Oil is considered to be the premium Omega 3 fish oil supplement world-wide with health benefits enjoyed by thousands of customers in more than 40 countries for over a decade. [ Omega-3 DHA Fish Oil label ]
Beware, you can purchase bad fish oils! With a bad product you may be unwittingly purchasing the contaminants mercury and PCB's for example. You owe it to yourself to buy only the purest, and safest Omega 3 DHA Fish Oil! The freshness, purity and effectiveness of Omega-3 DHA Fish Oil is published in the Certificate of Analysis of each batch of oil that will be shipped to you when you order. So, you can see what you are getting before you purchase. View these details at the Omega-3 COA.
In response to the recent scare about PCB contaminants in fish oil, the results of the latest PCB analysis by an independent certified laboratory has been posted. The result was exceptional, less than 3ppb (parts per billion) compared with the normal international specification of 90ppb!